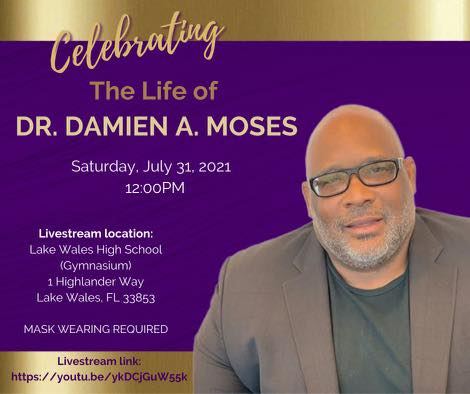 Bok Family,
We have information for you in regards to the celebration of life for Dr. Moses. This Saturday, July 31, at 12:00 p.m. there will be a celebration of life honoring his legacy. There are two links you will find useful:
Website for sharing photos, stories, and leaving your sympathies for the family. This website includes info on the "in lieu of flowers" option for those who wish to honor him. 𝙻𝚒𝚗𝚔: https://everloved.com/life-of/damien-moses/
Link for the live streaming of the services which you can watch at home or at the LWHS gymnasium. Masks are required if you choose to attend the gym event.
𝙻𝚒𝚗𝚔: https://youtu.be/ykDCjGuW55k
As you know our beloved Moses was loved by so many, therefore the public are encouraged to view the funeral by watching the live viewing. Thank you for your understanding and being respectful of his family.

July 23, 2021
Dear Knight Families,
Today is a sad day for our community. This morning, we were made aware of the unexpected death of our school principal. We share sympathy in the loss of Dr. Damien Moses and for his family. Our Knights were closely associated with Dr. Moses and may experience a wide range of emotions as he was such an impactful person.
We encourage you to be observant of your Knights for the next several weeks and provide guidance and understanding. This event may remind your child of other losses and may bring up questions or fears for them. We encourage you to give your child the opportunity to discuss this with you. Should you choose to talk about this with your child, the following guidelines might prove helpful:
Be a good listener. Allow your child to say anything. Validate their feelings.
Your child needs to be heard and taken seriously.
Be honest with your answers and not afraid to say "I don't know."
Reinforce the idea that feelings are neither good nor bad.
Be patient. Allow your child time to feel comfortable expressing themselves.
Quiet time together is okay.
Create a safe and friendly atmosphere.
Children show a variety of reactions to death.
Try not to do all the talking or assume your child is coping well just because they are not acting out.
Avoid comparing death with sleeping since this may provoke fears.
The following are some signals for attention that could indicate a grieving child:
Marked change in school performance.
A lot of worry or anxiety manifested by refusing to go to school, go to sleep, or take part in age-appropriate activities.
Frequent anger outbursts or anger expressed in destructive ways.
Social withdrawal or lack of emotion.
If problems persist, you may want to seek professional guidance.
If the school can assist you in any way, please do not hesitate to call on us. Our phone number is (863) 638-1010.
In sympathy,
Your Bok Academy Staff
Click here for the back to school packet -- https://signnow.com/s/FHELA2W0
Please be sure to check with the main office to ensure your phone and address are up to date in FOCUS. We use call outs & mailings in hopes of keeping you updated.
Click here for the lunch application -- lunchapplication.com
One application per LWCS household.
Please be sure to read the instructions before completing the application.
Leave your sentiments in stone by participating in our legacy walkway! As our campus construction closes, we are delighted to have beautiful brick pavers available to purchase. Your "Legacy Brick" will be placed by students in these purposeful walkways.
Your personalized engraved brick will be seen by current and future Bok Knights. Customized bricks may contain messages, names, and years -- a lovely way to pay tribute or honor special Knights who have made the world a bit better and more beautiful. By purchasing a brick you are also helping us fundraise!
All messaging will be approved by the Bok administration. Order yours today!